The only Over Shoulder Litter Bag Holder that hangs along your side, Not against it so it's easy to get in and out of wooded areas and under brush. Built for comfort and long term wear. Lightweight and easy bag change. High winds, No problem. Designed for Comfort ability to reduce back, shoulder and arm and wrist fatique.
ADJUSTABLE & DETACHABLE-Shoulder strap should be adjusted so the bottom bar is at your fingertips for easy opening. Detach strap to hold by hand for those quick pick ups.
LANDSCAPING- Bag those pinecones and tree debris easily.LAND MAINTENANCE- Quick bagging saves time and labor.CAMPING- Hang from a tree so animals can't get to the trash.BOATING- Hang anywhere for convienant access.BOY & GIRL SCOUTS- Big or small One size fits all. Makes picking up litter fun!
JOIN THE EFFORT!
2016 The Keep Pennsylvania Beautiful effort alone had 13,000 volunteers who picked up 864,000 pounds of litter that calculates based on the counted pieces of litter collected 40,000 times that a piece of litter was put in the litter bag. 2016 in California One event 52,191 volunteers who picked up a total of 297 tons of litter. Donate to your favorite clean up effort today, They need need your Help! Most people try to hold the trash bag open with a stick. So much time is wasted that could be productive by picking up more litter in less time with OSBH.

Over The Shoulder Litter Bag Holder is a personal trash bag holder that fits most garbage bags, clear drawstring bags and orange highway litter bags this plastic bag holder is held off the shoulder via shoulder strap and holds the trash bag tight. High winds are no problem. Coupled with the trash grabber or litter picker this job just got easier. Virtually hands free allowing you to get through those tight areas in the woods or brush along our roadside areas of your property. Weighs under a pound. That's a pound lighter than a 5 gallon bucket.
Every time you put litter into the bag you must first open the bag. Sometimes it will take several moves to do this. every move consumes time and energy. It only takes one motion to put litter in the bag and now it only takes one non-interfering motion to keep the bag open. Making it almost hands free.
Each minute spent opening a bag is a minute lost to collecting litter.
Please see video above
This bag frame is made from durable PVC40
The frames rectangle shape and shoulder strap are specifically designed to work with the natural movements of your body.
The bagging frame hangs along your side not against it.
So easy to grasp the frame bar and open the bag wide.
Shoulder strap detaches from the bag frame via parachute buckle.
Can be worn off the shoulder or across the chest.
Quick bag change while worn with only 2 clips that hold the bag tight.
Patent Pending Clips are attached to the frame via chain.

Fits any straight edge or drawstring bag 13 gallons and up.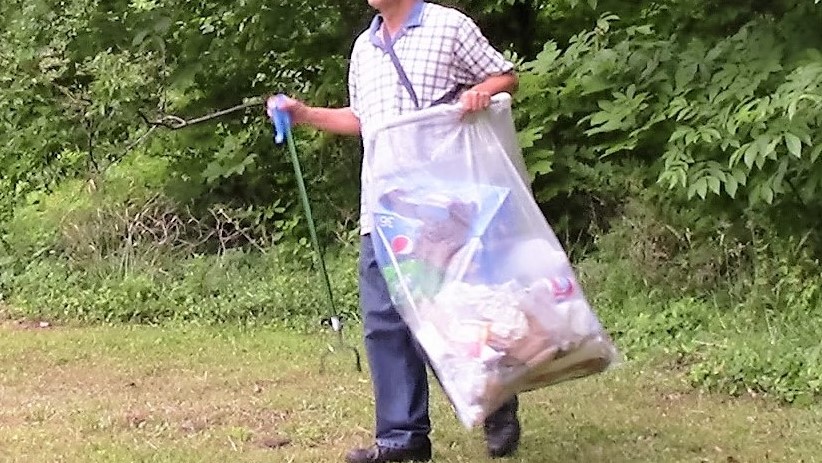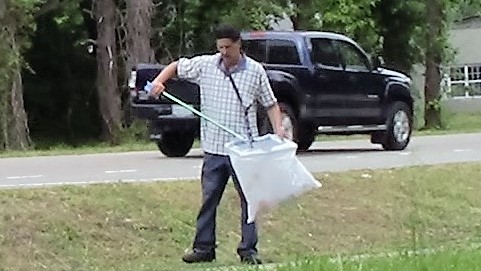 Recommend For 13 gallon to 45 gallon drawstring trash bags.
May also be used with regular trash bags up to 42 gal.
For drawstring trash bags;
Insert the Over the shoulder trash bag frame into a drawstring bag
Center the drawstring pull outs on the clip bars
Pull drawstrings in opposite direction to close bag smaller than the frame
Fold the drawstrings over bar length to attach the clips to the bag and string
For regular (non-drawstring) trash bags;
Tie off the bag opening edge so the bag is smaller than the shoulder bag frame.
Attach the clips.
Wind is no problem for the Over Shoulder Trash Bag Holder, the bag will hold on tight and will not close. So easy to get into tight areas like roadside wooded areas and under brush. Easy to walk around with because the frame hangs flat along your side (not against your side) until you open the bag wide for use.
Bigmouth Bagger is an approved Government Vendor some City Governments have implemented the Over Shoulder Litter Bag Holder. A few of the responses include; What a great idea, its so simple to use! Thank you so much John, we don't have to fumble with the bag, so we get more litter in the bag in less time.
City engineer says; I wish I would have thought of it, very well manufactured and comfortable to manipulate.
Bigmouth Bagger is a Registered Micro Entity with SWam. Listed with Dun and Bradstreet and Ariba. Patent Pending 2016